Work began on laying down the musical tracks for this project in the fall of 2019, but because of the corona virus lockdown that started in March of 2020 the songs and vocals were not completed until the summer of 2022. You might say this CD was over 2 years in the making!
There are a lot of special moments for me on this disc. It includes the first song I ever wrote when I was 9 or 10, an instrumental titled, Beatnik Drag as well as the last complete song I wrote titled, Invitation. Interestingly on the album, the first song is last and the last song is first. Why did I name it Beatnik Drag? Check out the "Stories Behind the Songs" section to find out. Additionally, I had to write new music for the song, It's Just a Song, as the original melody was lost somewhere along the line, so the lyrics are older but the tune itself is the newest music on this CD. I remember it was originally a slower number but I decided to kick it up a notch and give it a good beat. It was a challenge to see if I could still pen a good tune, I think I succeeded.
Here are some other notable things about the CD that you probably do not know.
There is a Christmas song here which is one of seven I penned for a Holiday album that was never destined to be. If I ever recorded the other 6 you would hear a religious song (I Hear the Bells), a novelty tune (It's Christmas Eve), an instrumental (Merry Christmas to All), a rocker (Santa's Comin' to My House), the alluring (Naughty or Nice) and even a heavy metal number (I Hate Winter!). I intended to fill out the CD by recording some lesser known standards as well, titling the album: "Spirits of Christmas Present… and Past."
Next, I included a song Chihuahua Cha-Cha, which is from a Broadway musical, which I composed, titled: "Wag". I challenged myself to see if I could compose a Broadway musical after seeing the show "Cats." The results were very interesting: including a variety of genres: rock, cha-cha, reggae, a bit of rap, gospel as well as the traditional ballad and several Broadway styled tunes. I originally called it "Mutts," but changed the name to a more upbeat and respectful name. Titles include: Wag, Mutts, Chasin'Tail, Two of a Kind, The Perfect Pooch (Pet), Look at Me/Take Me Home, Dog Dances Suite: Terrier Twist, Shepherd Stomp, Chihuahua Cha-Cha, Poodle Polka, Pussyfootin', Give-a Me Back My Heart, Will You…Yes I Will, How Did You Get Here?, (I Want to be your) Forever Friend, and the rousing finale, You Gotta Believe.
There are also songs representing all four seasons:
Every Time I Hear the Rain represents the drizzly spring; Burnin' epitomizes summer; Autumn Love obviously the fall and lastly my Christmas song symbolizes December and winter.
Finally, Tomorrow, a song of hope, It's Just a Song, dedicated to musicians everywhere and Oh Destiny, an introspective song.
On this CD I have tried to include a smorgasbord of varying styles and beats to keep your ears interested and your toes tapping. Hope I succeeded.
People often ask me, how do you write a song?
For me, most of the time, a tune would just pop into my head, could be anytime, day or night, along with some kind of rough lyric idea. I always considered this a gift and thought I should record some of these songs so as not to waste a God given talent. Because I cannot read or write music, I needed to sing the song into a cassette to refer back to at a later time or risk losing the tune forever. I lost many a good melody by not being able to record it at that instant it came to me. Later, I would play back the taped tune and sit down to try to write lyrics for it. The song would take shape; I would learn it on the guitar and record a demo for posterity. All of the songs on this CD were created in that manner. Very rarely did I write lyrics and have to come up with a catchy tune. That somehow did not work for me. It's Just a Song is that exception because it has a new melody; my original composition was lost somewhere along the line. It was originally a slow song but I could not remember the tune so I re-composed it to be an up-tempo melody instead. I guess I can still create a good tune. I haven't lost it! I hope you all agree.
I have written somewhere around 200 songs, some of them great, some good and some probably should remain in the archives.
When I was in my band, we would often think of creative names for albums we would hopefully record someday (positive thinking on our part). One was "Second Chance" the original title for this CD, another was a double album titled, "Two by Four" (which would have been designed to look like a piece of wood with the title burned into it). Also, we once saw a one-man band in NYC and decided to create a concept album around that idea named, "Sturdley Twinch's One and Only Original One-Man Band". I even wrote a song with that title! We were real dreamers back then but unfortunately not destined for success. C'est la vie.
If you enjoyed the songs on this CD, please give it a rave review on the music sites so others will also give it a listen. Who knows, if it is well received, I may record another CD, that elusive Christmas album or the entire soundtrack of that Broadway musical. Sign up, stay in touch and follow me on this website for all the latest news.
Thanks for listening! I really appreciate it.
John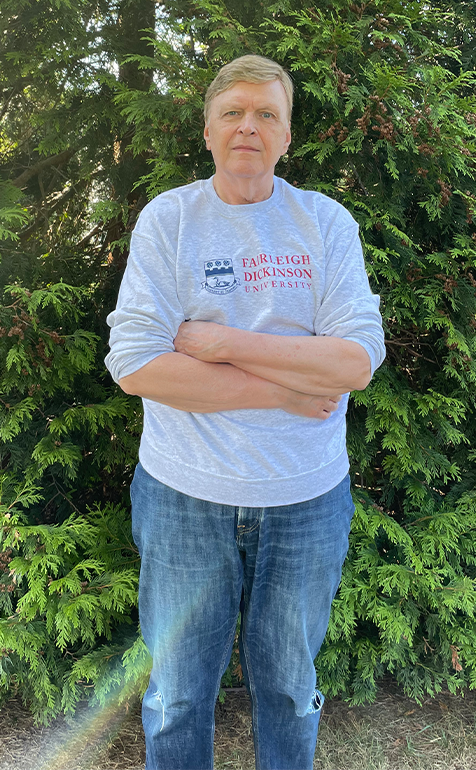 Wearing my sweatshirt from the front cover of the CD, in case you couldn't see it.
I started writing songs when I was very young, though most of those are not too good sans a few instrumentals. Most of these were written during and after the band I was in broke up. I never stopped loving music and kept on writing hoping for that big break that never came. I can't read or write music so every song is composed in my head then learned on guitar. Most of my songs come from melodies that just popped into my head and then I would find words that fit them, sometimes the theme of the song comes with the melody. I always thought of it as a gift.
Autumn Love, There are a lot of tunes about summer and winter (Christmas) but this is a tribute to autumn, a beautiful season that does not get enough songs written about it. Summer is over, back to the old grind and back to former loves. Spring could use a few good songs too.
Burnin', After a trip to Seaside Heights down the Jersey shore, I paid the price for enjoying the sun for far too long. If you've ever had a bad sunburn, you know what I mean. It has kind of a Beach Boys vibe. I rewrote the lyrics to deal with two topics: the first verse is sunburn, the second verse is still burning but, with a desire for sex despite being in pain. Check out the original missing verse in the lyrics section.
Chihuahua Cha- Cha, One of the songs from the Dog Dance Suite that was part of a Broadway musical that I wrote and composed, titled "Wag" that so far has never been performed, but I keep hoping. Can you guess what the play is about?
Dreaming of You and Christmas, One of 7 songs I composed for a Holiday album that also never came to be, but I'm still optimistic. Christmas is my favorite time of the year, peace on earth, goodwill to all. Wish it could last all year, don't you?
Engaged, Becoming engaged to someone is a big commitment, you pledge yourself to each other forever and there should be a song about it. Now there is!
Every Time I Hear the Rain, A one sided break-up song, he can't seem to forget about her; seriously, he needs to move on. The notes sound like falling rain, don't you think?
Front Page Story, If you remember local hometown newspapers then you would want a story about your one true love on the front page before they disappear forever like 8 track tapes, cassettes, LP's, CD's, etc. Kind of reminds me a little of "I'm A Believer."
Going Back to Tacoma, A song about someone who is so in love he will follow that person anywhere, even if they are taking advantage of the situation and just using the person, until they finally wise up, leave and go home. I've never been to Tacoma, it could have been any city but Tacoma nicely fit the melody. Doesn't sound as good with other cities, try it! How would "Goin' Down to Matawan" sound? I don't like it either.
Invitation, Newest song on the CD and written especially to introduce the CD as a music show for your ears. Has a kind of "Magical Mystery Tour" feeling.
It's Just a Song, This is dedicated to all those creative people who write songs and do not get their just recognition. Wrote the lyrics many years ago, lost the tune somewhere along the line, so the melody is new. In fact it is the newest music on the CD and the latest tune composed by me. I believe it was originally a slow number, but I jazzed it up a bit to hopefully make it and me more memorable. Always go out on a high note.
Oh Destiny, An introspective song about life and who's in charge of what you become. Take my advice, don't leave it to chance, go for it with as much gusto as you can muster. It has an ending reminiscent of "Hey Jude." Note that the lyrics do not rhyme, yet you don't really notice it.
Pretty Thing, Wrote the melody a long time ago and it was supposed to be an instrumental, but I liked it so much that I decided to add lyrics. I was never happy with them, rewrote them many times but was never completely satisfied with them; but I still really like the melody.
Tomorrow, Started out as an answer to "Yesterday" by Paul McCartney, and people who were dealing with sadness, but it took on an entirely different tone in the wake of the corona virus outbreak. No matter how bad today is or how sad you are, don't give up; keep on hoping for tomorrow, it will be better.
Tonight There's Only You, Two people getting together for one night of love, hoping it will last, regardless of their circumstances and what anybody else thinks. It could be about a night with your one true love, a first date or an indiscreet tryst, cheating on another. You decide. Check out the deleted verse in the lyrics section.
Beatnik Drag, The first song I ever wrote. It is an instrumental that I composed when I was 9 or 10 with assistance from my next door neighbor, Andy Lear, who showed me how to play guitar by ear. It was modeled after the instrumentals of one of my idols, Duane Eddy, who played lead on the low bass strings instead of the high ones. I was so proud of it that it made me want to continue to compose more songs, which I obviously did.
Where did the title come from? Well, when I told my mother I wanted to be a rock star when I grew up, she was not enthusiastic about the idea and tried to talk me out of it. When she failed, she asked an uncle to talk to me. He said, what do you want to be when you grow up, one of them beatniks who plays in those smoky bars all night and takes drags on those funny cigarettes? Hence the title Beatnik Drag!
In the summer of 1916, a great white shark terrorized the Jersey shore killing two swimmers at two different beach locations, as it moved north finally wandering up into the Matawan creek, where it killed a young boy who was swimming there and a man who dove into the creek looking for the boy or his remains. The shark returned to the ocean where it was caught and killed. Human remains were found in its abdomen. The story was headlines in all the newspapers and was remembered by Peter Benchley which inspired him to write the book, "Jaws" based on actual events. The mural was painted on the bridge, anonymously (now identified as Tattoo Bob) and without permission, at night, over the creek, on Aberdeen Road to memorialize where the attacks occurred. True story!